Welcome To Our Store!

We are locally owned & operated, and we are passionate about providing the best customer experience when you visit our store, whether in person, or on-line. We're glad you're here, and are happy to welcome you to the WBU Community.
Are you considering feeding your backyard birds? Or maybe you've been enjoying the hobby for years, and you're interested in learning more.
Either way, you are in the best place for the freshest seed, highest quality feeders, unique nature gifts and the best expert advice in town to help you get the most joy out of the hobby.
Why do you feed the birds?
Is it that wonderful moment of nature that you experience every time you glance out the windows at your feeders? Is it the true sense of peace that goes along with that little moment?
Maybe it is your heightened awareness of the shifting circle of the seasons, brought home by the changing birds and behaviors you see at your feeders.
How about the joy you experience when introducing children to the world of nature through the abundant and beautiful birds in your yard?
Or is it the satisfaction you feel as birds flock to your feeders during severe weather, and knowing that you are actually helping them to survive another day.
Bird feeding is a joyful hobby…and it should be shared with those you love. Discover the impact it can have in bringing people and nature together for the benefit of both.
We invite you to visit our store for expert advice from our Certified Bird Feeding Specialists.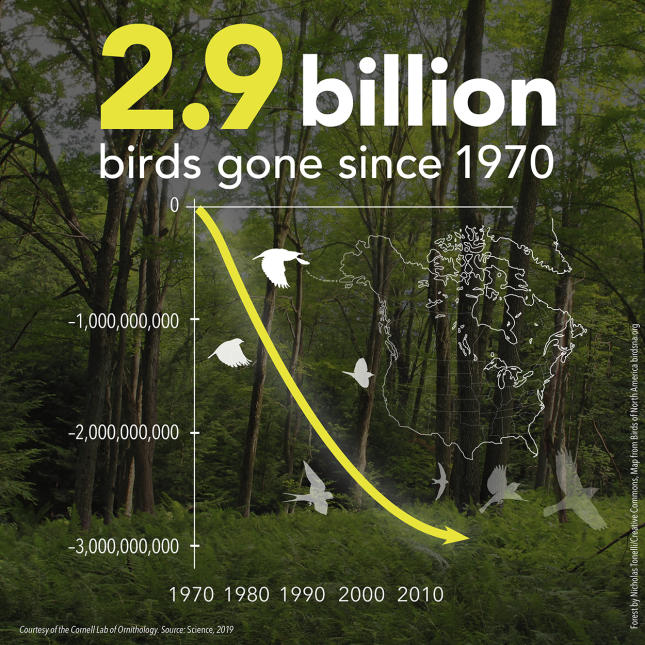 2.9 Billions Birds Gone: You Can Help Save the Song Birds!
A study*, published September 2019 in the journal Science, found that the population of breeding birds in the US and Canada has dropped by nearly 30% (or 3 billion birds) since 1970.
While there are some discouraging findings about overall bird populations in the study, there are encouraging examples of how galvanized human effort can work to bring back our birds. Examples include Raptors (+200%), Waterfowl (+56%) and Woodpeckers (+18%).
Wild Birds Unlimited has a long history of providing educational information, products and services that directly support local and migratory song bird populations. You can indeed make a difference - in your own backyard.
Want to find out how YOU can make a difference? Visit our Save the Song Birds page for more information.
*The study is a collaboration between avian and conservation scientists, led by Ken Rosenberg from the Cornell Lab of Ornithology and American Bird Conservancy.
---